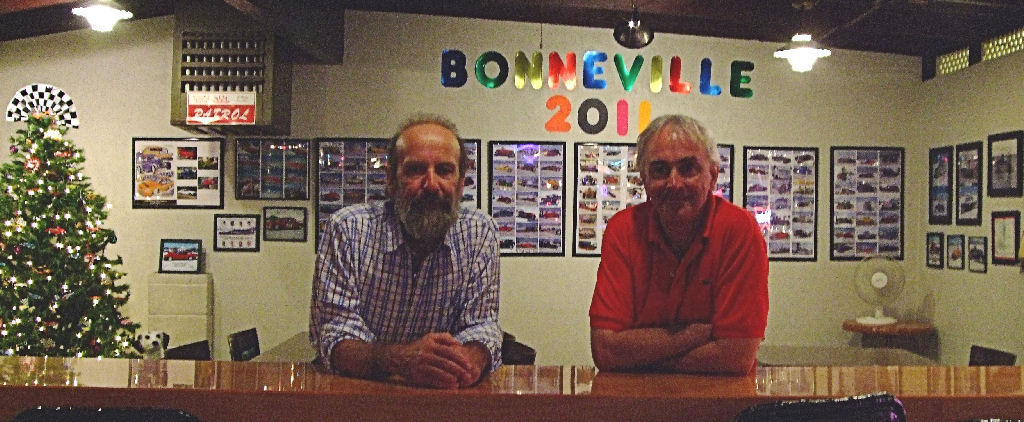 2011
In 2011 Dave and myself paid a visit to Bonneville as spectators with a view to running the supercharged Triumph. The first 2 days were spent in tech watching just about every bike and car being inspected and generally making a nuisance of ourselves asking loads of questions.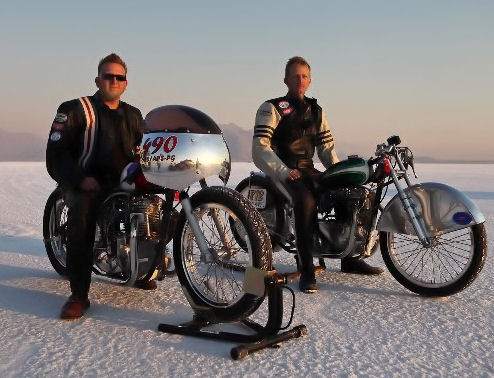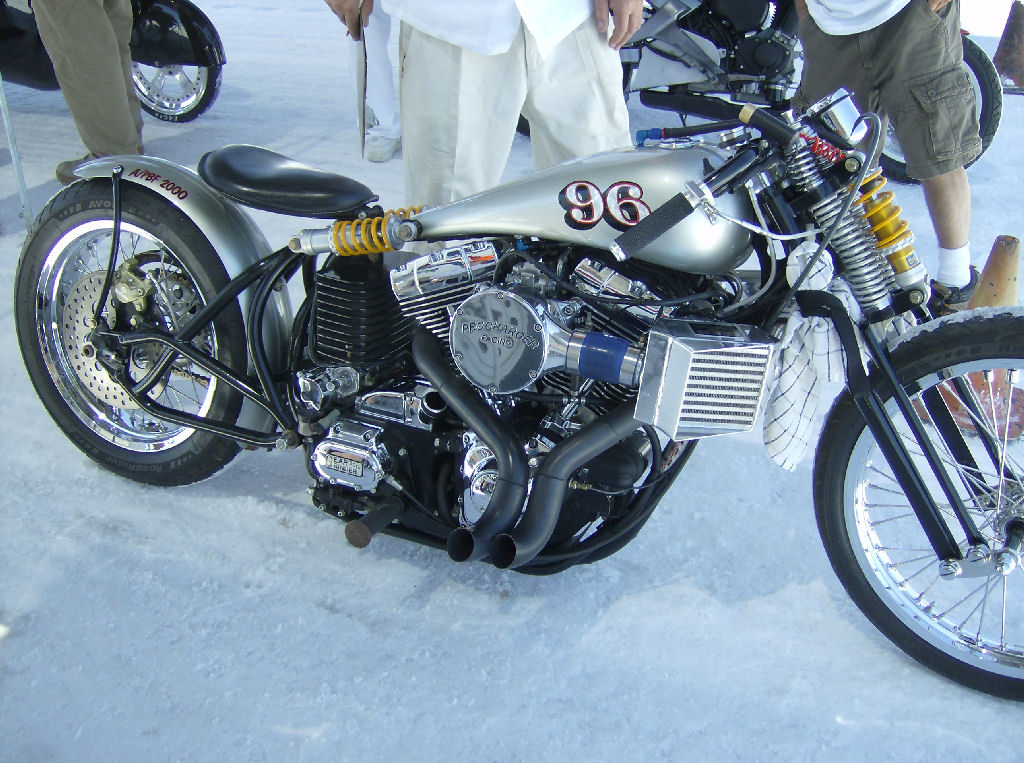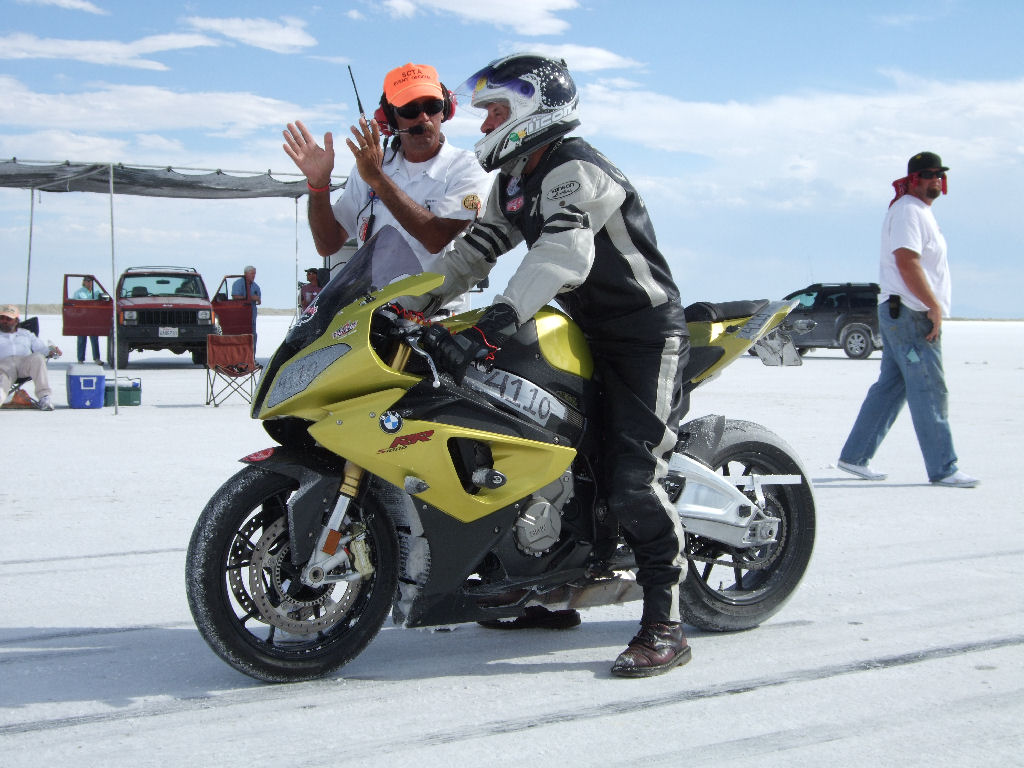 Words do not do justice to the experience of sitting waiting on the start line looking down several miles of empty salt. Then with a few words of very sound advice the startline marshal offers you the racetrack
Wandering around the pits we chanced upon
Kyle and Tyler Malinky
from
Lowbrow Customs
running their custom Triumphs, we stopped and chatted and made more notes. The week went on with us making more and more mental notes to the conclusion that we would need to completely redesign the Triumph Drag Bike into something more suited to the salt.
On Wednesday I was chatting with Brian from Klock Werks who with his wife Laura, daughters Erika & Karly and friends Erin and Andy were running a supercharged Harley and a stock BMW 1000.
During the conversation something special happened. Asking if we had our licences yet I replied no, so Brian offered us not only the BMW to ride but crew and riding gear.
I was much too big for Laura's leathers but Dave tried very hard but unsuccessfully. The gloves and helmet however were OK.
We still had rookie orientation to do, so heading back to the pits we stopped by impound, and with the generosity only racers possess Kyle and Tyler loaned us their boots and leathers.
Thursday morning arrived and with fresh rookie stickers on the helmet, wearing size 10 boots on my size 8 feet and Tyler's leathers (he's over 6 ft), a worzel gummidge look-alike lined up to run down the salt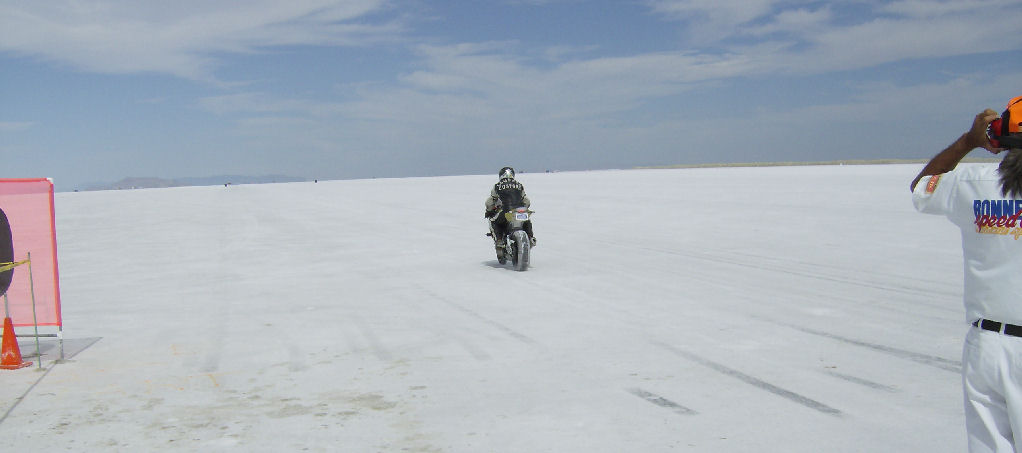 You have just got to do this at least once in your life. There's nothing else like it.
Brian Erika & Karly with the Supercharged Harley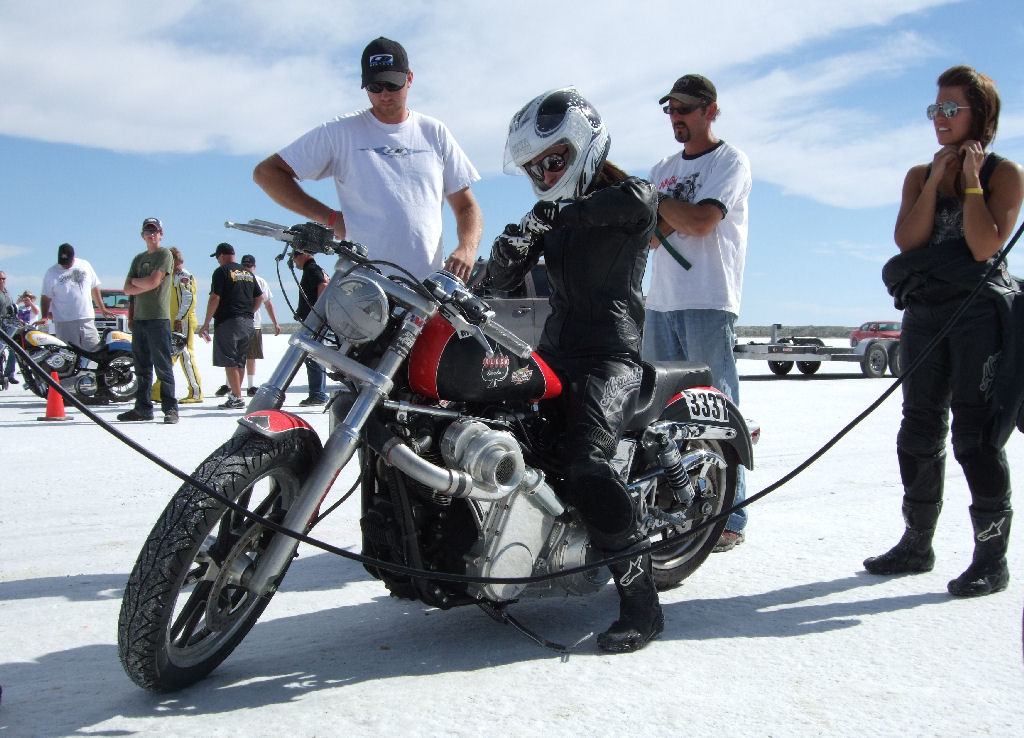 During the same walkabout through the pits we met Rick Pearson. An Englishman flying a Scots flag running under a French entry in the program. A few beers and a lie down in the car, you could not call it sitting, and aother friend for life. Which for 2012 would prove to be very visual and one hell of a laugh.
Aiming for 313mph + to take the I/BFS record and a coveted Blue hat for the 300 mph chapter of the 200 club. And it's got a Kawasaki engine so it's almost a bike.